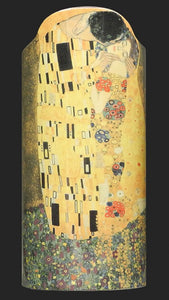 ceramic vase
Approximate dimensions: height 23 cm, diameter 10 cm
Delivered in its box with a small brochure on the artist.
The Kiss, 1907

Gustav Klimt (1862-1918)
A prominent member of the innovative group of artists Sezession, Klimt is considered one of the main precursors of modern painting.
Its ornamental Art Nouveau also irresistibly evokes the fin de siècle atmosphere of Vienna: elite, bourgeois and liberal, sometimes decorative, with decadent pleasures. The combination between the monumental style, the almost Byzantine decorative art and the classical symbolism results in a very recognizable work, elaborated on the backdrop of the romanticism characteristic of its time.