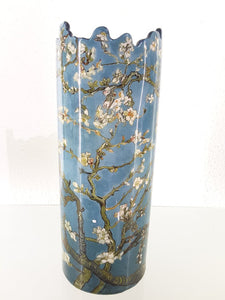 Ceramic vase, stylized cutout.
Dimensions approx: height 23 cm
Delivered in its box with a small brochure on the artist.
Nice reproduction of the famous painting by Van Gogh.
Vincent van Gogh (1853-1890)

The post-impressionist painter Van Gogh greatly influenced art in the 20th century. But the recognition of his talents as an artist will come too late for him. He only sold one of his paintings during his lifetime.
The solitary artist, driven to despair by a long mental illness, was to end his life at the age of 37. After devoting himself to painting with frenzy for ten years, he left an impressive number of canvases, which inspired important movements such as Fauvism and Expressionism.